What you need to know before you get training.
We train in quite a few venues over the year, but typically you will be given a time and location to meet Richard or a qualified stand in instructor, before the class. Typically at our regular Wednesday venue it's the tram stop outside the Youth Centre.
Classes are in English (German is understood).
Krav Maga is a contact activity which involves sports games and movement so please inform us of any medical condition you feel may be important for us to know about. If necessary it may be a good idea to speak to a Doctor before starting training.
Krav Maga is adaptable to most disabilities and medical conditions (if given the go ahead from a Doctor). We teach adults over the age of 18. 16-17 year olds are sometimes taught after we have met with a parent or guardian. We currently do not do childrens classes in Vienna. We have Students from many different backgrounds both men and women and Richard's oldest ever student was 72!
Krav Maga is meant to be as realistic as possible so we encourage students to wear regular clothing (sports clothing is ideal) and shoes suitable for running. Due to safety reasons necklaces, rings, watches and other jewelry that has a risk of being pulled off, shouldn't be worn for safety reasons. Krav is a contact activity involving a partner and we do have techniques involving ground fighting so there is a likelihood of getting clothes dirty and sweaty. It is a good idea to bring a drink.
No specialist equipment is needed for your first few weeks of training. After a few weeks it is recommended that male Students get a groin guard (available at any sports shop). Some students choose to wear mouth guards for some activities. Additional sparing gloves, shin pads and IKMF Clothing are optional in class and necessary if you want to do tests with the IKMF.
Our regular venue has toilets which can be used to change in and showers are available.
Lesson's at Krav Maga Fire are pretty informal. We ask you to be respectful and courteous at all times. Everyone is on their own journey which might be different to yours. Please talk to your training partner about your goals and what level of power and physical contact you wish. Krav Maga isn't a sport so you can take it at your own pace. However it's important to talk to your training partner about this.
The club is effectively run as a hobby as Richard is pursuing real life experience at the moment (he was previously a professional instructor) so the first lesson is free (to see how a student likes it) and then on it's just €5 a class. Obviously this is less than half the price of many Krav Maga clubs but as this is a hobby and the money is just going towards room hire and equipment there is currently no need to charge more. When international visitors visit us (normally experts from Israel) seminars are normally €50 or so. If you wish to test with an Israeli expert (which isn't compulsory) these are normally around €50 with the need to get a IKMF passport and clothing as well. Our tests are normally conducted down in Leoben, Steiermark, with a senior instructor who has flown in.
Unfortunately we are often very busy so it may take some time before we get in contact to arrange a trial class.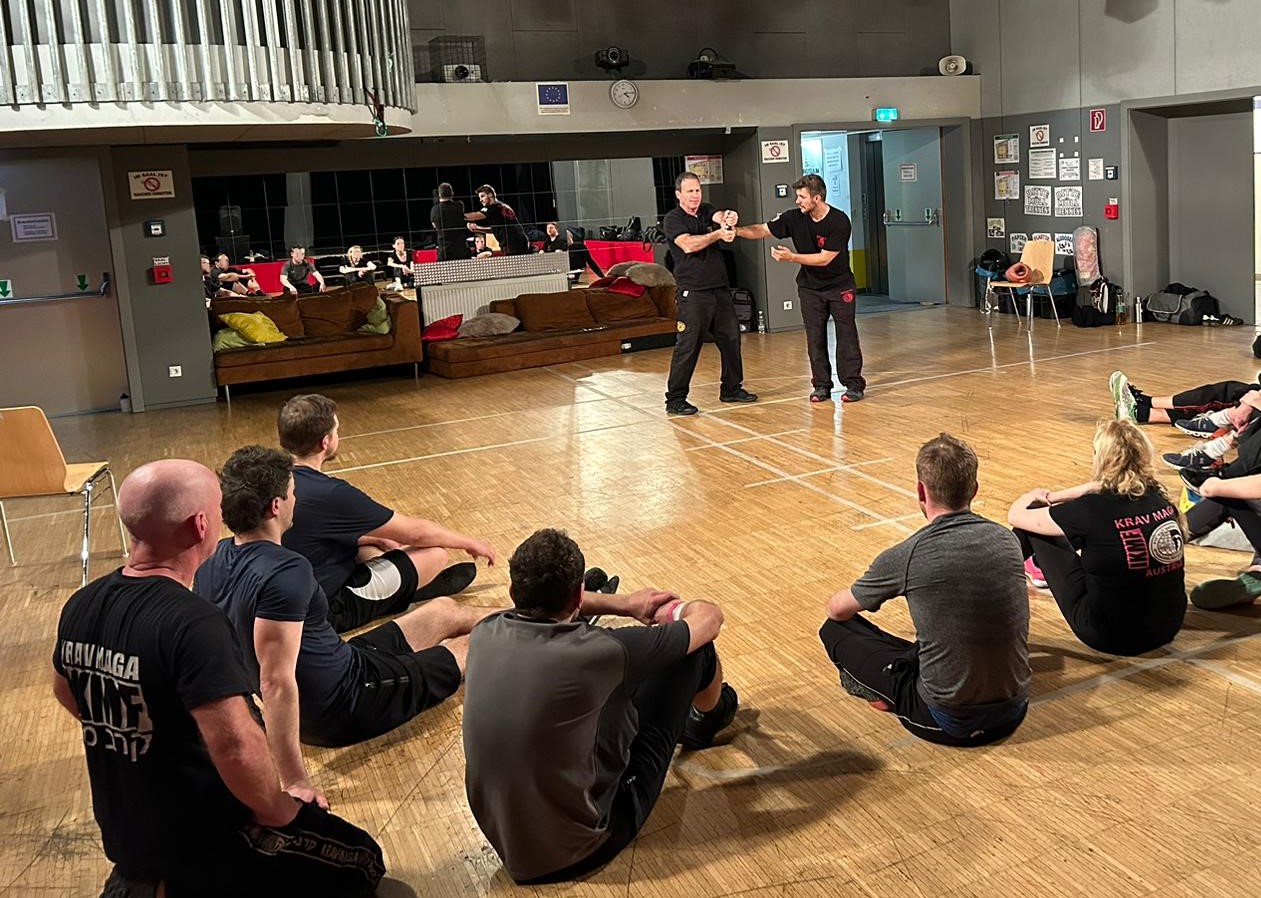 Head of IKMF Testing GIT Expert Level 5 Tamir Gilad teaching a seminar for us in Vienna March 2023